In His Image books are available
now! Reserve your autographed copy today!!!
Hard cover children's books are $14.95 and soft covers are $10.95.
If you're using the "Buy Now" link, your S&H has already been added, providing you with the total. S&H for the first book is $4 and .50 for each additional book.
If ordering more than 3 copies
of any one book,
please email us at
ClimbingAngelPublishing@gmail.com
(or click on the "EMAIL" link below)
for your total.
What people are saying about Somebunny To Love...
"I was completely captivated by this beautiful story. – Sam Polson, Pastor of West Park Baptist, Tennessee
"Somebunny to Love is one of the best treatments of grief I have read." – Rev. Sharon Roddy Waters, Disciples of Christ minister, Virginia
"Somebunny To Love is absolutely wonderful...for both young and old!" – Mark Kirk, Pastor of Calvary Chapel Knoxville, Tennessee
"Masterfully written..." – Jeff Gordon, author and film historian, Texas
Thump: Soland releases new children's book
By Linda Braden Albert lindaba@thedailytimes.com | Posted: Sunday, November 29, 2015 12:00 am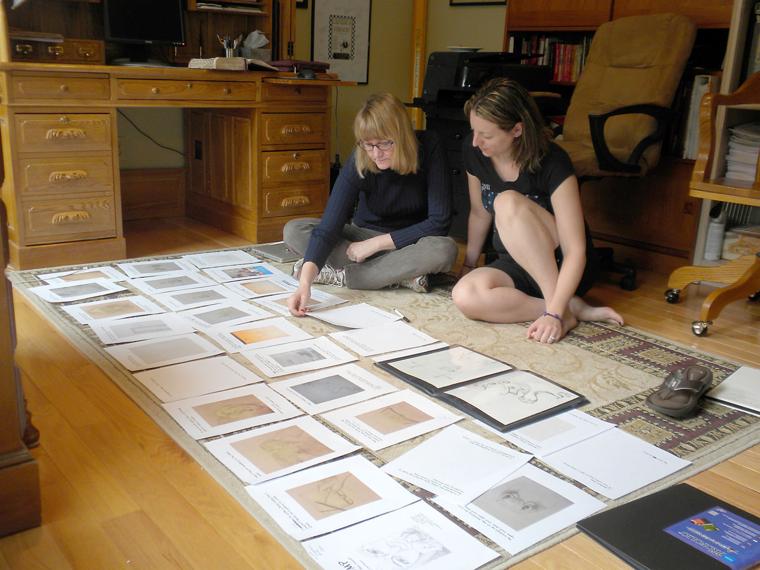 Lisa Soland and Karah D. Tull work on their book, "Thump"
Author Lisa Soland (left) and illustrator Karah D. Tull work on the book, "Thump."
As a writer, Lisa Soland is inspired by everything happening around her. Even the smallest "thump" garners her attention and sends her creativity soaring.
Soland's latest children's book, "Thump," is the result of one of those seemingly insignificant events. The book focuses on an author — herself — sitting at her desk, uninspired, until she hears a soft thump. What she finds is a small bird who has flown into her glass door, stunned, lying on the ground. The story continues with Soland picking up the bird, praying over it, singing to it, then rejoicing as it recovers and flies away. The book is beautifully illustrated by Karah D. Tull.
The author said her book is based on a true story, which took place during a women's Bible study in one of the ladies' homes.
"We all heard a thump in the other room, and everybody just froze," Soland said. "There's no other sound like that. The head of the Bible study, who I dedicated the book to, said, 'Well, we all know what that was, and I'm not going to look.'"
Soland tried to ignore it, not wishing to disrupt the Bible study, but finally excused herself to see if the bird was still alive. "It was a yellow finch, and he was laying on the ground," she recalled. "I picked him up and did everything I wrote in the book. I just prayed over him and sang to him and reminded him of God's promises. I helped him up on my finger and he would not go. He would not fly away. I'll bet he sat there for half an hour. I had to move my arms up and down to encourage him, and finally he flew up into a tree."
Framing the story
With her imagination engaged, Soland followed the advice she gives to students in her writing classes. "I tell my students it's all how you frame a story," she said. "How do you package it so that it's digestible to the reader? ... I'm always praying to God to please show me what to write about — to give me something of value." This is how she decided to use an author looking for inspiration as her character in the story.
The reaction to this new book as well as to Soland's earlier children's books, "The Christmas Tree Angel" and "The Unmade Moose," has been favorable. She said, "I was just at an event where I sold 10 each. 'Christmas Tree Angel' I thought was such a great idea — I really didn't expect much more to come out of me. Then to have ideas continue to come and to sell them equally, I think that's a really good thing."
She also is pleased with the attention readers of all ages are paying to the cover of "Thump," an illustration of Soland with the small bird perched in her hand.
"I think Karah captures the entire idea of the book, which is that love heals," Soland said. "And prayer is powerful."
Soland will be reading from each of the three books Dec. 5 at the Historic Sam Houston Schoolhouse's Annual Christmas Open House, which will take place from noon to 5 p.m. She said, "I have a little soldier costume and an angel costume, and I talk to the children about how, when you're the reader of a book, you get to be all of the characters. That's one of the things that appealed to me. As an actor starting out in show business, I only played one of the roles, but as a writer I get to play them all. It's the same thing for a reader. With a book, you can imagine that you're every character in the book. We'll be talking about that with the Christmas books. With 'Thump,' I've had a lot of adults share with me their experiences of birds hitting their windows, so it opens the way to have conversations with children about when to give up on something and when not to give up — but we should always have hope."
Climbing Angel Publishing
The two Christmas-themed books were originally published by a different company, which has since changed hands. Soland reserved the rights to re-acquire the books when she formed her own publishing company, Climbing Angel Publishing, which became a reality recently. As such, she will republish "The Christmas Tree Angel" using the illustrations from children who entered their work into a national contest.
"They are really quite good and imaginative and fun," Soland said. "A portion of the sales from that second edition will go to the Boys and Girls Clubs of America." The second edition will be released Dec. 1 on Amazon.com. Soland plans to do a similar second edition of "The Unmade Moose" in 2016 as well as write the third in the Christmas series within the next two years.
"I hope to put out a trilogy in one volume of the three stories," she said.
Soland is also a playwright. She said, "The Lyric Theatre in Loudon, for the second year in a row, will be producing 'The Christmas Tree Angel Radio Drama,' which is 'The Christmas Tree Angel' book adapted into a theatrical event." The event will be held at 8 p.m. Dec. 3-6, with a 2 p.m. matinee on Dec. 6 at 320 Grove St., Loudon.
"Thump" retails for $14, while "The Christmas Tree Angel" and "The Unmade Moose" retail for $15 each. For more information about Soland or Climbing Angel Publishing, email her at ClimbingAngelPublish@gmail.com or visit the website at www.ClimbingAngel.com.
Perfect as you are: 'Unmade Moose' finds purpose in new children's book
By Linda Braden Albert | lindaba@thedailytimes.com | Posted: Sunday, November 30, 2014 12:00 am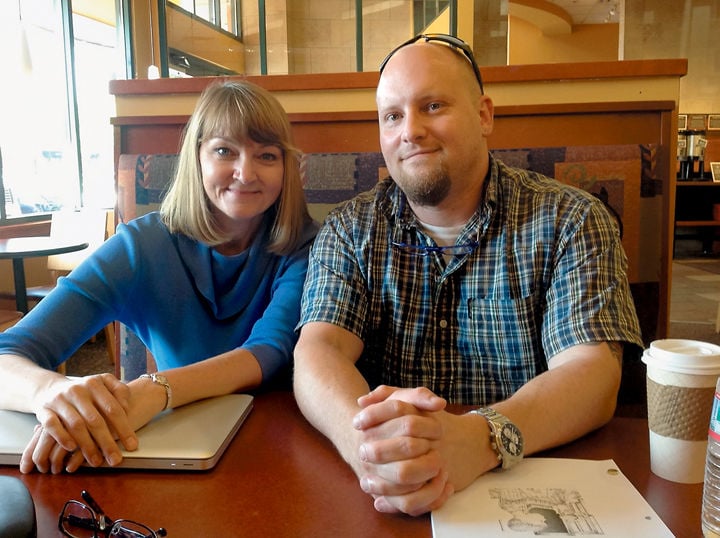 Author and illustrator of 'The Unmade Moose'
Lisa Soland (left) and James E. Stamper are the author and illustrator, respectively, of 'The Unmade Moose.'
Author and playwright Lisa Soland delighted children and adults alike with her first published children's book, "The Christmas Tree Angel," released in 2013. The charm and wonder of Christmas continue in the recently released sequel, "The Unmade Moose," another inspirational story of hope as the moose, like the angel, learns his life has purpose and meaning just the way he is. James E. Stamper provided the illustrations.
"The Christmas Tree Angel" was so successful that the publisher, Celtic Cat Publishing (www.celticcatpublishing.com) based in Knoxville, asked Soland to write a sequel. She had been thinking of a story about a stuffed toy moose living in a sewing basket, waiting for the seamstress to finish him. She decided he would fit nicely as the sequel to "The Christmas Tree Angel," in which an angel ornament is given to the Brown family by their pastor on Christmas Eve and hung carefully on the tree by little Tommy. The angel is filled with the joy of the season when she meets the other ornaments on the tree, but her joy turns to despair when she learns they will all be placed in a box after the holiday ends and kept in the dark until the next Christmas season rolls around. Soon the angel and her new best friend, a toy soldier, decide to work together on a plan to escape the dreaded box and find the freedom and purpose they desire.
"At the time I thought of the moose, I had no idea he would fit with the Christmas tree angel, but it could certainly be set in that same era, 1901, and he could live in Mrs. Brown's sewing basket in the sewing room, which very rarely ever gets visited," Soland said.
The moose is lonely in the sewing basket in the unused room, and since he still lacks one of his legs, he feels he has no choice but to stay right where he is. After he sees little Tommy begin to hop on one foot after stepping on a wayward pea that has rolled in front of the sewing room door, the moose begins to think perhaps he could hop using his one leg and get a different view of the world.
Soon he hops, rolls and lifts himself right into the middle of the Christmas festivities in the Browns' cozy living room, enticed by the laughter and the lights from the tree. He meets the ornaments and is encouraged when the angel tells him he is made the way he is for a purpose.
The Browns leave for church on Christmas Eve, and Tommy returns the moose to the sewing box. But when the stuffed toy learns of danger to his ornament friends, he overcomes his fears to help them. Using Mrs. Brown's knitting needles as crutches to help him move more quickly and the special qualities only he possesses, he becomes a hero.
"The Unmade Moose" was inspired by Soland's younger brother, who was born without a leg.
"My younger brother is having a fine life, so I didn't want to write a story about a moose that got 'fixed,'" she said. "So it was an idea germinating from this concept that God actually equips us with everything we need to get out of our baskets and do what it is that we're here to do. But it's in our limited thinking that we look in the mirror and see with our human eyes, 'I'm not done, I'm not finished. There's something not perfect about me so I'm not going to get on with the work that I'm given to do. I'm going to sit and wait.' And I think that's something that unrightly inhibits us. It's my hope that the book encourages people that are waiting for the intangible to happen, when in fact, we already have everything we need."
When Soland, an acclaimed playwright, lived in Los Angeles, she shared the story of the Christmas tree angel with the director of her plays. He suggested she adapt the story into a radio drama and record it, then distribute the audio story to underprivileged children at Christmas.
The drama will be produced Dec. 5-7 at Lyric Theatre Company in Loudon. Bill Landry, host of the popular television show, the "Heartland" series, will narrate at 8 p.m. Dec. 5 and 2 p.m. Dec. 6, and Knoxville News Sentinel columnist Sam Venable will narrate at 8 p.m. Dec. 6 and 2 p.m. Dec. 7. Tickets are $10 each and may be purchased at LyricTheatreCompany.org. The Incredible Christmas Place in Pigeon Forge is the presenting sponsor.
"I think it's going to be a wonderful night of family entertainment," Soland said. "It will be produced like a radio show from the 1940s but it will be a live drama."
She will be available to sign both books at the drama and at 7 p.m. Dec. 8 at the Blount County Public Library as part of the Maryville Tree Lighting festivities. The books are also sold on her website, lisasoland.com, and she will personalize them before mailing. They are available at Union Avenue Books, Barnes and Noble and Smart Toys and Books in Knoxville.
Soland said her philosophy is to add light to this increasingly challenging world rather than negativity. "It takes an awareness, a willingness, a decision to stop adding to the troubles and add goodness and light and love," she said. "I'm just delighted I get to do that in the area of children because they are the future. Each of us needs to face the responsibility and do what we can. I guess that's what underneath it all."
The Christmas Tree Angel is an inspirational holiday story about an angel ornament that is given to the Brown family on Christmas Eve. Once placed on the tree, the angel meets new friends who share the news of what will happen to them when Christmas is over. Determined to escape the dreaded storage box, the angel and the soldier work together on an idea that just might bring them the freedom and purpose they desire.
Lisa Soland, author
Illustrators, in order: Mia Sapecky, Kacey Cox, Centaine Conley, Victoria Wheelock, Payton Bethmann, Benjamin Pallozzi, Lexi Carroll, Tevka Lackmann, Braxton Turner, Bethany Vickers, and Grayson Raines Morgan.
The Unmade Moose is an inspirational holiday story about an unfinished stuffed toy who lives in Mrs. Brown's sewing basket. One day he meets the angel from the top of the Christmas tree, and she tells him that he was made on purpose and for a reason. A little encouragement goes a long way, so when Mrs. Brown drops two knitting needles into the moose's home, his long-awaited adventure begins.
Lisa Soland, author
James E. Stamper, illustrator
THUMP
A writer sits at her desk, trying to write, when she hears a noise from down the hall. Is it the nightmare she imagines, or an opportunity to experience God's grace in the palm of her hand?
Thump is a true-life testimony of the miracles that surround us each day.
Lisa Soland, author
Karah D. Tull, illustrator
Climbing Angel Publishing exists for the purpose of sharing stories of hope and encouragement, aiding in the gathering together of community, and supporting the process of betterment.
Climbing Angel Publishing
Author of IN HIS IMAGE
Sam Polson is the Lead Pastor of West Park Baptist Church in Knoxville, Tennessee, and featured teacher with the Sonlight Radio media ministry. He also serves on the boards of the Association of Baptists for World Evangelism and Shepherds Ministries, an educational ministry for adults with developmental disabilities.
CHRISTIAN CHILDREN'S BOOKS
WHAT PEOPLE ARE SAYING ABOUT IN HIS IMAGE BY SAM POLSON
"In His Image will enrich the reader's walk with God [and will be] particularly helpful for any Sunday school class, small group meeting, or in-home Bible study."
– Dr. Greg Baker, Pastor of Fellowship Bible Church
"I think you will find this book to be a positive step in seeing God transform you into His image!"
– Mark Kirk, Pastor of Calvary Knoxville
"In His Image is a book I highly recommend to assist in family worship, private devotion, or personal study."
– Dr. David Trempe, Pastor of Westminster Chapel
"Beyond the profound and fascinating way in which Pastor Sam Polson takes us along the thread of the significance and practical implications of the theme of God's image in Scripture, In His Image is a book that springs as much from the study and living out of those truths, as from a rich experience of pastoral service."
– Pastor Eugen Groza, Bethany Baptist Church
"I challenge you to read and grow into the likeness of our Creator and Redeemer. In His Image will inspire, educate, and guide you in that sacred process."
– Rev. Sam Phillips, Church of God
PRE-ORDERS OF SAM POLSON'S NEW BOOK IN HIS IMAGE ARE AVAILABLE BY CLICKING ON THE "BUY NOW" LINK BELOW. YOUR TOTAL COST WILL BE ON THE RIGHT WHICH INCLUDES S&H FOR 1 TO 3 BOOKS.
$14.95 + $4 S&H = $18.95 / $29.90 + $4.50 = $34.40 / $44.85 + $5 = $49.85
IF YOU WOULD LIKE TO PURCHASE MORE THAN 3 BOOKS, PLEASE EMAIL US AT CLIMBINGANGELPUBLISHING@GMAIL.COM (or click on the "EMAIL" link below) AND WE WILL HANDLE YOUR ORDER DIRECTLY. IF YOU PLAN TO PURCHASE 10 OR MORE BOOK, A DISCOUNT WILL BE APPLIED PLUS FREE S&H.
CLIMBING ANGEL PUBLISHING CHARGES $4 S&H FOR THE FIRST BOOK AND .50 CENTS FOR EACH ADDITIONAL BOOK.